8 tips for improving primary literacy skills from a distance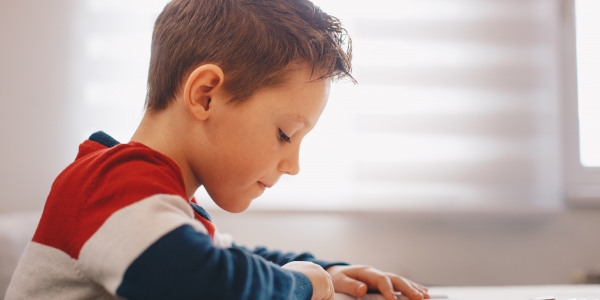 With schools around the world moving in and out of lockdown, and the light at the end of the tunnel seeming to fade and reappear every few weeks, good quality literacy learning must find other ways to continue.
The goal is to develop a love of literacy. However, with so many plates for kids to spin – with the inclusion of criteria for success, generation of ideas, and the correct use of grammar – it can be quite difficult to motivate and engage kids. in their writing in class.
Distance education can make this even more difficult. But with innovation and creativity, we can make it work. Here are 8 tips for improving distance literacy skills.
1. Transversal courses
With home learning, lessons can seem disjointed for children and parents. If the lessons are cross-cutting, however, they can provide continuity, add purpose, and ultimately make home learning easier.
When children apply their writing to aspects of a subject that they have already learned, it reinforces previous learning and means that the focus can be on the new learning goal. Making each topic a project and making it exciting and prolonged work will benefit.
For example, recently we learned about animals and their habitats. During our English lessons we developed an understanding of non-fiction writing and practiced writing different types of sentences. In the topic, we have researched habitats around the world and watched extracts from documentaries.
For our extended writing, the children wrote non-chronological reports. They were then encouraged to use their presentation skills to create their own exciting documentaries.
2. Child-directed learning
Giving children the chance to explore their interests and vote on the topics discussed will give them a sense of ownership and control, increasing their motivation and enthusiasm.
Make it fun by using online polls and quizzes, share the results, and come up with options on how each job can be done.
Last summer we learned about the plants and foods that are grown. After researching the foods the children had chosen in class, I challenged them to make their own project based on their favorite fruit or vegetable.
The children were given instructions and examples of work. The work I received in return was incredibly creative. One child submitted a video diary each week; other children created posters and artwork.
3. Integrate technology
After active learning, there are countless apps and websites available that can be used creatively to engage kids and transform their writing.
Create literacy-themed scavenger hunts on apps like GooseChase, have kids take photos, and use them to practice conjunctions or descriptive writing.
Websites such as Kahoot! and Quizlet are great resources for a quick assessment; you can complete them in class via a split screen or individually. Instead of wasting paper, Popplet can be used to create colorful and interactive spider diagrams.
4. Speak to write
Instead of sending out worksheets for short sentence activities, giving children the opportunity to speak, discuss and explain will build their self-confidence and their reading and writing skills.
Through voice notes and videos, kids can learn to write by putting their ideas into practice and planning their sentences before putting a pen (or pencil) on the paper.
5. Creative presentation
Reading aloud improves understanding of grammar and punctuation. After completing a text, give the children the task of presenting it in a creative way.
With non-fiction work, challenge children to become documentary presenters, have them dress up and use pictures and videos alongside their narration. With fiction, children can record themselves reading their stories like an author reading a book.
Pick a few different children each day, highlight their successes, and share their recordings with the rest of the class.
With each new challenge, children will become more creative and enthusiastic, producing their own shows and developing their own style.
Each writing lesson, I encourage students to register after they have completed their writing. Some of my class have now developed their own miniseries, starting each recording with a funny greeting and dressing for the role.
Every day on our farewell call, I pick a few of my favorite examples and share my screen.
6. Find a goal
Having a goal increases motivation and gives meaning to learning. Find a writing goal and share it with students early on.
This could be sending work based on a book to the author, creating informational brochures and stories for the community, or posting work online for parents to read.
Using the story Suricate courier, by Emily Gravett, we wrote our own innovative stories. We then shared our work with parents and sent it to the author. The kids and teachers were incredibly excited when we got a response!
7. Use the community
Make the lessons real by using people as resources. Send questions to authors, professionals and family members to base reports and stories around.
Invite special guests to calls for question-and-answer sessions or ask for videos to be sent. Your students will be happy to talk to someone new and your lessons will become more memorable.
When writing non-chronological job reports, my students designed their own questions which were answered in videos and via a Zoom call from key workers. The children then used the responses to write reports.
8. Read, read, read
Encourage children to read or listen to an audiobook every day. Tell the children to find books that interest them. If they start reading one and don't like it, they can find another.
For younger people and students with English as an additional language, Unite for Literacy has English books with second language narration.
For kids who don't have access to books at home, Audible, YouTube, and Storyline Online are amazing resources. Create a Padlet or similar shared space where kids can share, recommend, and discuss what they have read.
Gemma Tonge is a teacher at a British international school in China. She taught abroad for three years