Thousands of people take part in a bicycle demonstration in Zurich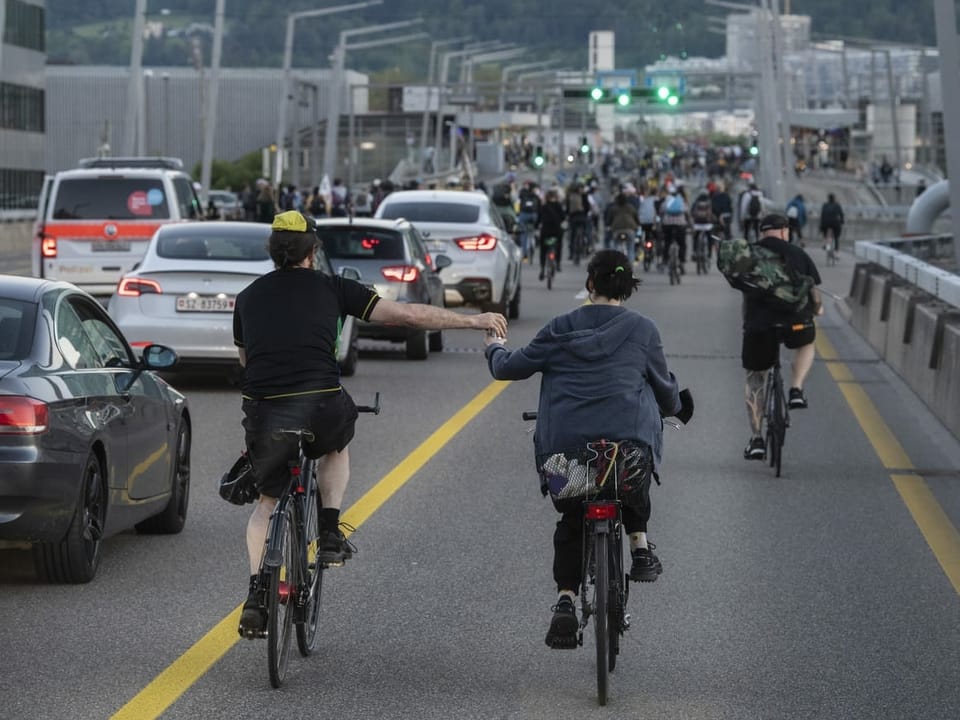 Several thousand cyclists surprised the police by attending a mass demonstration in Zurich to highlight the dangers posed by motorized traffic.
This content was published on May 29, 2021 – 13:34

swissinfo.ch/mga
Two people were slightly injured during the protest on Friday evening. Zurich police said they had received several complaints of verbal altercations between protesters and motorists but did not say anyone had been arrested.
Witnesses reported that up to 10,000 cyclists took to the streets, some deliberately blocking the roads and causing traffic jams in several parts of the city.
The event was organized by the Critical massExternal link movement, which began in San Francisco in 1992 and is now taking place in cities around the world. Its aim is to draw attention to the dangers that motorists present to cyclists on the roads.
Police said the protest started around 6:30 p.m. and continued until late at night. Many protesters defied coronavirus social distancing rules and did not wear face masks.
But police appear to have limited their action to appeasing flashpoints where motorists have complained of being provoked by protesters "in various ways."
Other demos
The Zurich demonstration was attended on Saturday by up to 2,000 people gathered in the French-speaking city of Lausanne to protest against plans to toughen anti-terrorism laws. Voters will decide on an initiative on June 13 that calls for the scrapping of the controversial law change.
Also on Saturday, around 20 protesters defied the ban on demonstrations in the northwestern city of Solothurn against the lockdown restrictions in the event of a pandemic. The authorities had refused to allow the "silent protest" following a large demonstration in Neuchâtel last weekend.
Solothurn police isolated the handful of protesters and said they had prevented 120 other people from joining the protest. No arrests were made.
About 1,000 people in Geneva protested against anti-terrorism laws and pandemic lockdown measures. Voters will also challenge the government's powers to curb the pandemic on June 13.